One of my husband's favorite expressions is "Risk versus Reward." In other words, ponder all the consequences and determine if the reward of a decision is worth the risk. Sometimes it IS –and sometimes it certainly is NOT!
I thought I would combine two writing prompts from past blogging challenges in this post and address the following ideas about risk:
Discuss your experience with the saying, "Go big or go home."
Do you always look before you leap?
If the expression, "Go big or go home" means to take a chance on being totally vulnerable for something you really want, then the experience that comes to mind is an audition back in my early college days, in the years of 1976-1980.
I have always enjoyed singing–a talent I probably acquired from my Dad–and I even taught myself to sing alto and harmonize. I sang in the church choir and even won a singing competition in a group that included my sisters and a friend. When I got to college (Nyack College in Nyack, New York), I discovered there were a number of singing groups looking for members.
The one that sounded the most interesting was one that would require traveling during spring break, presenting World Missions in Review (WMIR) in conjunction with other members who would be speaking and presenting skits. The 16-voice chorale would include 4 members for each vocal part (soprano, alto, tenor, and bass) – and required an audition.
In spite of my nervousness, I really wanted to be a part of the group–and although I literally experienced fear and trembling throughout the audition…I obtained one of the alto positions. That was rewarding enough, along with the experience of traveling and presenting the WMIR program – but I was able to continue as a member of the chorale in additional years. During my junior year, our group actually went to a studio and made a recording; that was a first and only experience!
"Look before you leap" – On this, I'm reminded of my literal leap from the second story window of our apartment, when fire broke out on March 25, 1985. I discussed this experience in my post regarding Great Risks-Great Rewards. In that case, I really had no choice, as it was a matter of life and death. I remember having to drop three young children  (including my infant daughter) out the window to the waiting policemen–after that, I don't clearly remember anything until waking up in the hospital, as it turned out, three days later.
Apparently, I fell while trying to climb out the window; eyewitnesses stated that I somersaulted through the air and landed on my head. I nearly died from my injuries, which included a lacerated scalp, skull fracture, and broken neck. By the grace of God –I'm still here and am working on  writing the story, now that enough time has passed that I can write about it without the associated emotional trauma.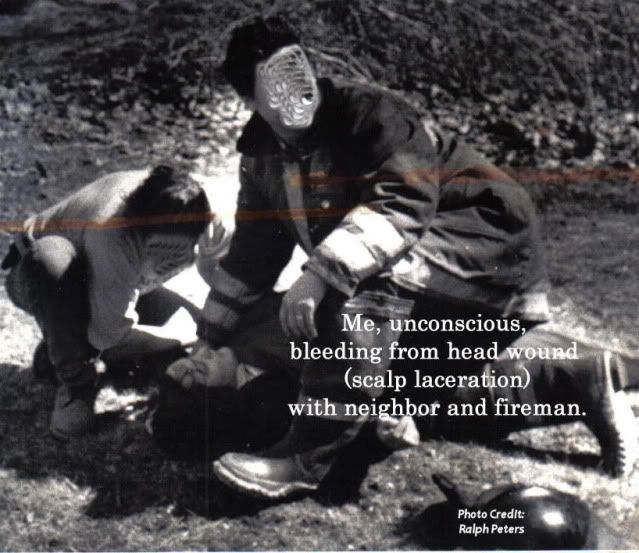 ~~*~~
So what are YOUR thoughts?
Have you had any experiences that fit one or both of the concepts I've discussed?
Do you think it's sensible to consider the risk versus reward?