After yesterday's post, I received comments here and in Facebook groups about the first of my 30 things on my list: the fact that I almost died just before my 27th birthday in 1985. Some of you suggested it would be a good story – well, you will be happy to know that I have started writing this story!
I posted this in March, but I'll share it again now for a brief preview of what will be in the book. I wanted to note that I have spoken with the man who was the editor of the local paper that ran the pictures I've included in the post. He told me they were public domain pictures by now, and I wouldn't have to attribute them, or blur faces (like I had already done in these pictures).
*******
It was a windy March day, the kind that seems to create a vortex and blows leaves around in little whirlwinds. I had just gone upstairs to our second story apartment in an older home, with an attached barn. I brought with me our 4-month-old daughter Shara and 2-year-old Angel, a little autistic girl for whom I provided one-on-one developmental services. My 3-year-old son Andy was playing outside with his trucks and some sand out of the bucket on the porch, where the door was to go up to the apartment.
A short time later, perhaps only 10 minutes or so, Andy came bursting through the door into the apartment, yelling about a fire. I had no idea what he was talking about…until I looked out the livingroom windows and to my horror, a towering wall of flames greeted me menacingly, as they raced across the porch roof.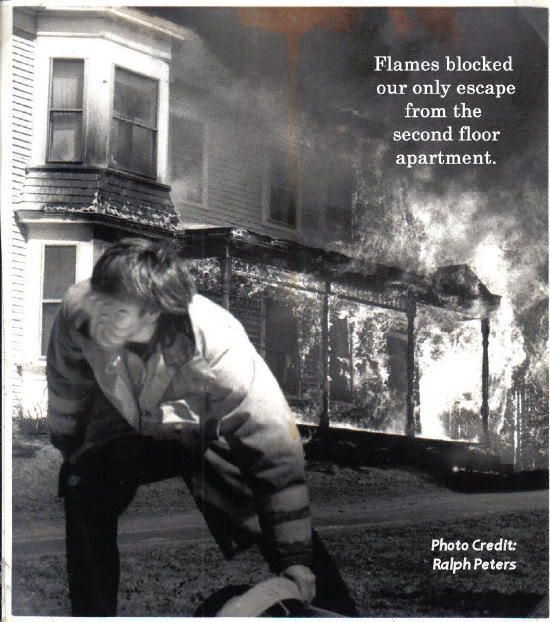 I ran to the door – our only exit – only to see that same taunting fire, accompanied by acrid, thick smoke, billowing up the stairs. I slammed the door shut, wet some towels, and stuffed one along the crack under the door to try to stop some of that choking smoke from entering the room. I also placed wet towels over the children's faces in an attempt to prevent any substantial smoke inhalation, and prayed fervently, "Jesus, help me! Help me get us out of here alive!"
Gathering up the children, I ran to the opposite side of the apartment to the kitchen window, threw it open, and began screaming for help. This was a small apartment, so perhaps only 10 to 12 feet of floor space separated us from the door at the top of the stairs.
Two policemen showed up below the window; I told them I was trapped with three small children, including an infant. One by one, I dropped those precious children into the waiting arms of those heroes below.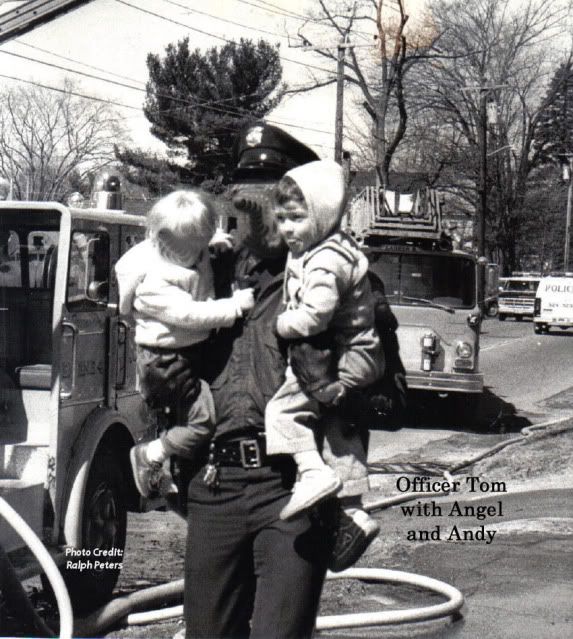 After that, I quite honestly cannot recall what happened…but somehow, I fell out the window, somersaulted a couple times (according to witnesses), landed head first on the concrete slab below, and life began ebbing from my body.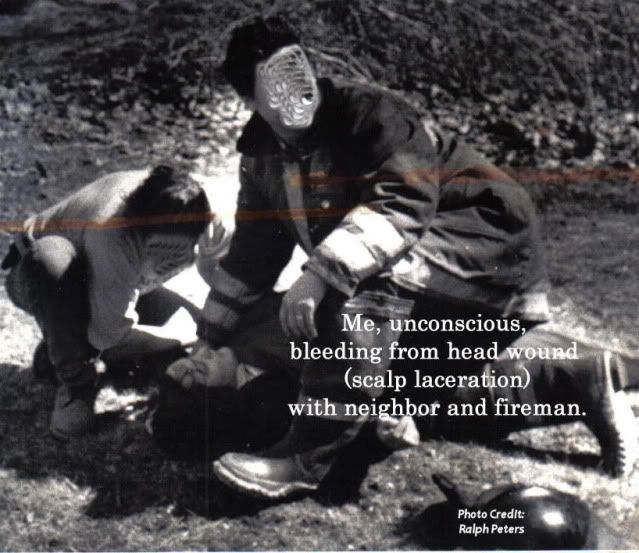 By the grace of God I survived, obviously, and now–28 years later–I'm finally beginning to write my story.
I don't recall a lot of details and have had to piece things together with the help of my son, from what he recalls at that young age.  Eyewitnesses also filled in details, and said to their horror–as soon as I fell out the window–flames shot out the window behind me as if trying to snatch me back inside, to die a horrible death.
While I don't remember that, I do know this: the hand of God and His angels were there, in the midst of the flames that sought to devour us. God had other plans for our lives.
*******
Stay tuned for more details as I continue to write this story.
How about you? Have you experienced life-threatening circumstances and miraculously survived?